As we are working on our various 2014 events: Weddings, Bar Mitzvah's, The John Mackey Award Dinner and the Ultimate Boot Camp Challenge, it take a team to get the work done. I have the best team, the girls are always ready to step up to a new challenge and research new ideas and vendors. Allison DeVere was the first to join my team a year and half ago and she stepped in like she had been working with AJK Events all her life. Event planning came naturally to her and she is amazing to work with both before, during and after the event. Allison now runs her own weddings and she is great!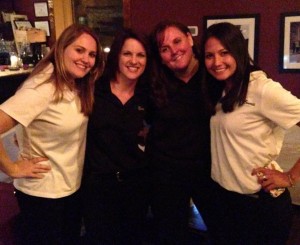 Karen has been with AJK Events for almost a year and while she is still learning the in's and out's, she is super sweet and works very hard on every event. Karen fell upon us at a Milestone Bar/Bat Mitzvah show and she worked her first wedding with us within a couple weeks of meeting us. Karen had no problem jumping in and we knew that she would be a great fit for the AJK Events team.
Then there is Alicia, she found us at a wine pairing dinner and she has been with us for only six months but she is a huge asset to AJK Events. Alicia has a strong work ethic and isn't afraid to get her hands dirty by trying something new.
To be successful in this industry it takes a strong team, and I am thankful everyday for the ladies on the AJK Events team. We all have different strengths and together we make a GREAT team. Thank you ladies for all your hard work, 2014 is going to be an amazing year! Angie